Roasted sweet potatoes with chile yogurt & mint
Ingredients:
4 pounds medium sweet potatoes
2 tablespoons extra-virgin olive oil, plus more for drizzling
2½ cups plain whole-milk Greek yogurt
1 serrano chile, finely grated
2 teaspoons finely grated lemon zest
2 teaspoons fresh lemon juice
Kosher salt
2 tablespoons toasted sesame seeds
1½ cups mint leaves, torn if large
Flaky sea salt
Preheat oven to 400°. Toss sweet potatoes with 2 Tbsp. oil on a parchment-lined rimmed baking sheet. Roast, turning halfway through, until tender, 50–60 minutes. Remove from oven; increase oven temperature to 450°. Let sweet potatoes cool slightly, then tear into large pieces (including skin)—irregular pieces look best. Spread out on the same baking sheet and roast until browned and crisp around the edges, 20–25 minutes.
Combine yogurt, chile, lemon zest, and lemon juice in a medium bowl; season with kosher salt. Coarsely crush sesame seeds on a cutting board with a flat-bottomed mug (or leave them whole).
Spread chile yogurt on a platter; top with sweet potatoes. Scatter mint, sesame seeds, and sea salt over; drizzle with oil.
Do Ahead: Sweet potatoes can be roasted 6 hours ahead. Let sit at room temperature. Reheat in a 400° oven just to warm through before serving. Chile yogurt can be made 1 day ahead; cover and chill.
Ingredients:
1 cup of plain Greek yogurt
1 scoop of collagen protein powder 
1 teaspoon honey 
⅛ cup of cashews or pecans  
1 tablespoon of nut butter (20g scale weight) 
¼ cup of fresh berries 
Dash of cinnamon 
Dash of sliced almonds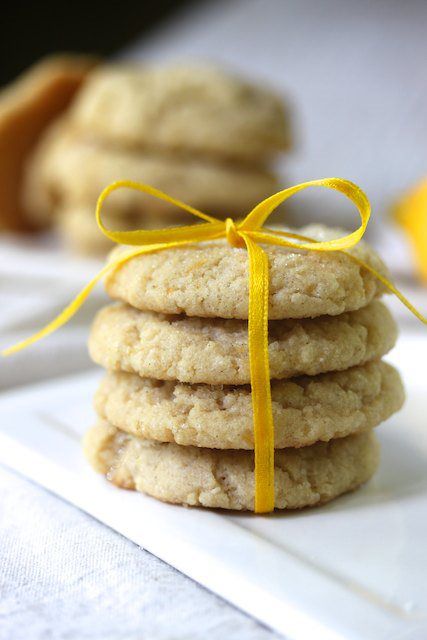 Yields 32 cookies
Cook time is 45 min.
Ingredients:
2 1/4 cups flour 
1/2 tsp. baking soda 
1/2 tsp. baking powder 
1/2 tsp. salt 
1 1/4 cups granulated sugar plus more for rolling 
1/3 cup citrus infused olive oil 
2 large cage free eggs 
1/2 tsp. vanilla extract
Directions:
1. Pre-heat oven 450 degrees 
2. Combine flour, baking soda, baking powder, and salt. 
3. In a second bowl combine sugar, olive oil, eggs and vanilla. Stir until smooth. Mix in first bowl of dry dough with this mix. You should have a fairly soft, oily dough. 
4. Fill a small bowl with sugar and scoop dough by the tablespoonful sized balls and roll in sugar and arrange on baking sheet. Leave 2″ between cookies. 
5. Bake for 11-13 minutes or until tops are puffed and crackly on the edges with a light golden brown color. Let cool. Enjoy!
Here is my recipe
4 lb roasted organic chicken carcass *any animal will work
2 carrots
3 celery stalks
2 onions
Fresh parsley ( save some to add fresh to your soup when you eat it)
2 Tbs apple cider vinegar
1 tsp salt
Pepper
Cover with water, bring to a boil, reduce to low, simmer for 24 hours
Stoke Your Metabolism While Preserving Muscle
Health Benefits
Metabolism and Healthy Weight
Promotes Healthy Energy, Fitness & Sexual Function
Helps Reduce Stress-Related Food Cravings
Supports Healthy Hair, Skin and Nails
Bone broth because of the marrow has many health benefits because it's rich in minerals and collagen.
It heals the gut and reduced intestine inflammation.
This can help your metabolism and also just make you feel leaner because it's deflates the midsection internally.
So basically; internal healing anti inflammatory, reduction of the appearance of cellulite, joint health and even sore muscles.
My suggestion, drink only 1 cup post workout or first thing in the morningto replace coffee rituals
• 3/4-1 cup water or almond/coconut milk
• 1/2 cup ricer cauliflower
• 1 scoop 'High Performance Nutrition' (Plant-based Protein Powder)
BANANA MAPLE FRENCH TOAST *pictured here
• 1 tbsp or 20g Justin's Almond butter
• 1 square of dark chocolate cocoa 70-90% slivered
But make it with the topping that interest you most!
Enjoy 🙂
28g measured is one serving of steel cut instant or 8 minute oats (Trader Joe's)
• women use this, men X2 serving size
-Fill your container or mason jar with oats and then add water 1/4″ over the oats
-Add one full scoop of HPN protein powder (Max Muscle 714 Adams Ave say you're from Crave for a discount)
• Flavors available are Strawberry Jam, Chai Latte, Chocolate Frosting , Vanilla Frosting, Cinnamon Roll, Blueberry Scone.
-Simply stick this container in fridge for 12-24 hours and pull out when ready to consume.
-I add fresh berries to top at this time and also a great addition us 14g flax or chia seed.
-Enjoy a perfect breakfast or pre workout meal.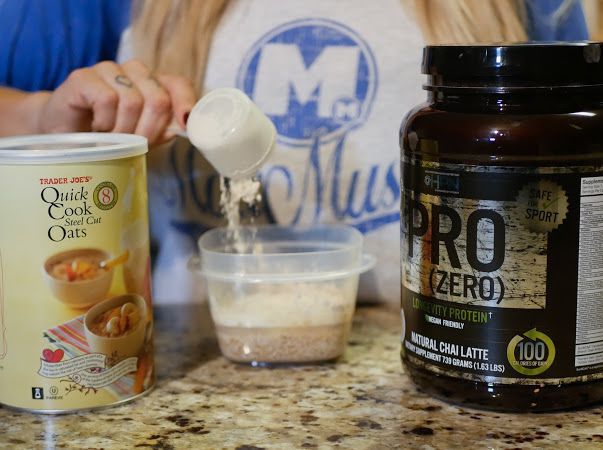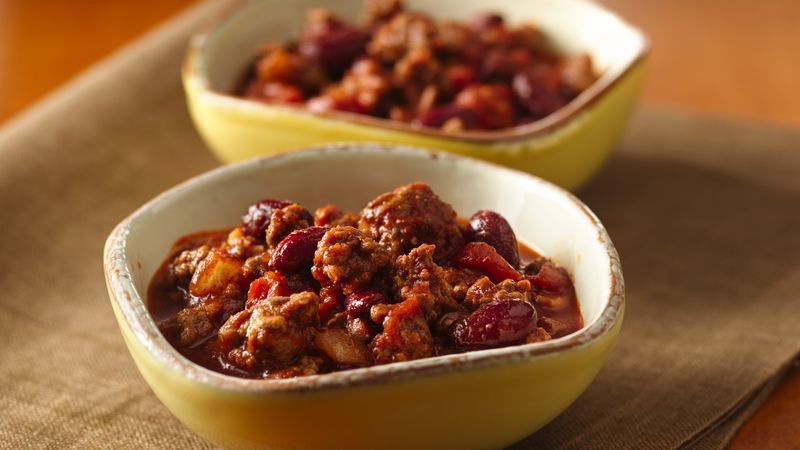 LAUREN'S HEALTHY BODY NUTRITION CHILI
My client asked me for a chili that would fit her HBNC plan and here it is……
Ingredients:
• 1 cup of diced sweet peppers (red, yellow, and/or orange)
• 6 cloves of garlic – chopped into teeny bits (I find the flavour better when I chop rather than using the garlic press)
• 1.5-2 lbs ground beef 96% lean
• 2-3 cans diced tomatoes (the big fat cans)
• 2-3 cups of cooked kidney beans
• 1 tablespoon cocoa powder
• a few shakes of black pepper
• 1 tablespoon unrefined sea salt
• 4 tablespoons chili powder (or more to taste)
Directions:
1. Heat up your cast-iron pan to medium-low and coat it with coconut-oil spray and when it is sizzly, throw your diced onions and peppers. Stir them around occasionally until the onions are translucent (that's the clear one, right? I always get them mixed up) and the peppers are soft. Toss in the chopped up garlic and stir for another minute.
2. Add ground beef 96% lean or better, to pan and cook it until it's browned and cozy with the onion party.
3. Meanwhile, get out your big stock pot and put in all the rest of the ingredients and get them simmering. Add the meat and onion mixture. It doesn't actually really matter how it all comes together – just make sure the ingredients all get cozy and stay simmering for a while until they're nicely melded. I like to simmer it all for a few hours before serving, if possible. It's also even better as leftovers!
4. Serve with a salad on the side, and your choice of garnish. I love diced avocado!
Per Serving (/16)
1. Preheat oven to 350°F, and spray or grease a 8×8-inch baking pan.
2. In a large mixing bowl, mix the wet ingredients of melted unsalted butter and 2 teaspoons of vanilla extract until well combined. Then mix in the 3 large eggs.
3. In a small bowl: mix together the dry ingredients of almond flour, instant coffee, baking cocoa, salt, erythritol, and baking powder. Then, whisk the wet ingredients with the dry ingredients. Place ¼ cup of batter aside to
4. Add the larger portion of batter into the 8×8-inch baking pan. The batter will be thicker than traditional brownie batter.use later.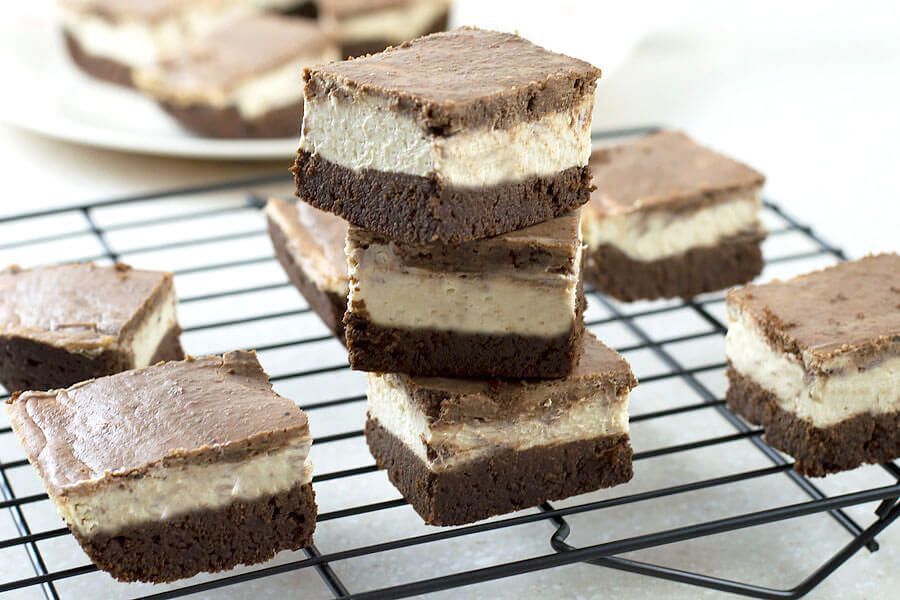 5. In a mixing bowl: blend the room temperature cream cheese, 1 large egg, 1 teaspoon vanilla extract, and ½ cup erythritol until smooth. Spread on top of the brownie layer.
6. Using the ¼ cup of brownie batter, mix into the top layer of cream cheese to create a top brownie crust. This layer should be very thin.
7. Place in the oven to bake for 30-35 minutes at 350°F. When finished, you want the cheesecake bars to be fully cooled when cutting the slices.
Ingredients:
1-2 Scoops of HPN Pro Zero Vanilla plan-based protein
2 Handfuls of fresh spinach
1 tbsp MCT oil
1/2 Frozen banana
Directions:
Add 1/4 cup of water and 4 ice cubes and blend together in a magic/nutribullet
Enjoy!!!!!
Benefits:
This shake is the best start to your day because it is brain, muscle and energy food.
It doubles as a great pre-workout.
*You can purchase this protein powder at Max Muscle HB 714 Adams Ave. Hb, Ca 92648 #(657) 464-9905
CRUST PIZZA ~ MARGARITA STYLE!
I am not sure why this took me so long? I had no idea how easy it would be to make! This is the Best Cauliflower Crust Pizza, if I do say so myself.
Pizza crust has always intimidated me because of its lengthy process to make. Finally, I have a simple pizza that I can make completely from scratch, crust included! It only takes three ingredients (not including toppings!) to make a simple and ultra healthy (and low carb!) meal.
The Best Cauliflower Crust Pizza ~ Margarita style!
The BEST Cauliflower Crust Pizza!
Author:
Sara ~ Loving Life Naturally
Healthy, low-carb, and super delicious!
4 cups grated Organic Cauliflower
4 cups shredded Whole Mozzarella Cheese
Low Sugar Pizza Sauce of Choice or use my Marinara Sauce 
Fresh Basil and/or add your favorites
Sea salt and olive oil to drizzle on after cooking
Click below for step by step instructions:
As we age we naturally begin to lose muscle mass. We have to work a little harder, eat a little cleaner, sweat a little more to keep our shape. I don't know about you, but I not only like to feel good, but I want to look good too! All of that takes work!
Eating the right macronutrients is crucial to success in reaching your goals. We don't just want to lose weight on the scale by counting calories. When we do that we end up losing muscle along with it. When we eat the right macros, we keep our muscle and lose body fat in the process. Muscle is the driving force of your metabolism. I want to keep mine burning, don't you?
For this tastey and macro appropriate recipe click the link below:
https://naturalhealthmomma.com/2016/11/16/eat-your-macronutrients-protein-pancakes/
HOMEMADE MADE APPLE COCONUT GRANOLA
Processed or refined carbohydrates send your body into a FAT STORING MODE! Something we all want to steer clear of! When you eat too many processed carbohydrates in one meal, your pancreas releases insulin to absorb the excess glucose (carbs are turned into glucose in the body)and then store them as fat. So for a long time, Carbs have had a bad rap. The good news… not all "carbs" are created equal! There are "CLEAN" carbs!
Oats are very nutritious, as long as you don't get the quick cook kind or the ones in packets mixed with sugars, fake sugars (aka Chemicals), and other unnatural ingredients. Many granola's sold at the store are also very deceiving. They are usually full of sugar! If you do buy granola make sure to read the ingredients to ensure it is natural. A little added natural sugar is okay
I love this recipe! It is fully of wholesome ingredients with just a touch of sweetness, I know you will enjoy! Click below for the recipe.
https://naturalhealthmomma.com/2013/06/05/naturally-made-apple-coconut-granola/
NATURALLY MADE GOAT CHEESE, ASPARAGUS AND HEIRLOOM TOMATO FRITTATA
As we age we naturally begin to lose muscle mass. We have to work a little harder, eat a little cleaner, sweat a little more to keep our shape. I don't know about you, but I not only like to feel good, but I want to look good too! All of that takes work!
Eating the right macronutrients is crucial to success in reaching your goals. We don't just want to lose weight on the scale by counting calories. When we do that we end up losing muscle along with it. When we eat the right macros, we keep our muscle and lose body fat in the process. Muscle is the driving force of your metabolism. I want to keep mine burning, don't you?
For this tastey and macro appropriate recipe click the link below:
https://naturalhealthmomma.com/2016/11/16/eat-your-macronutrients-protein-pancakes/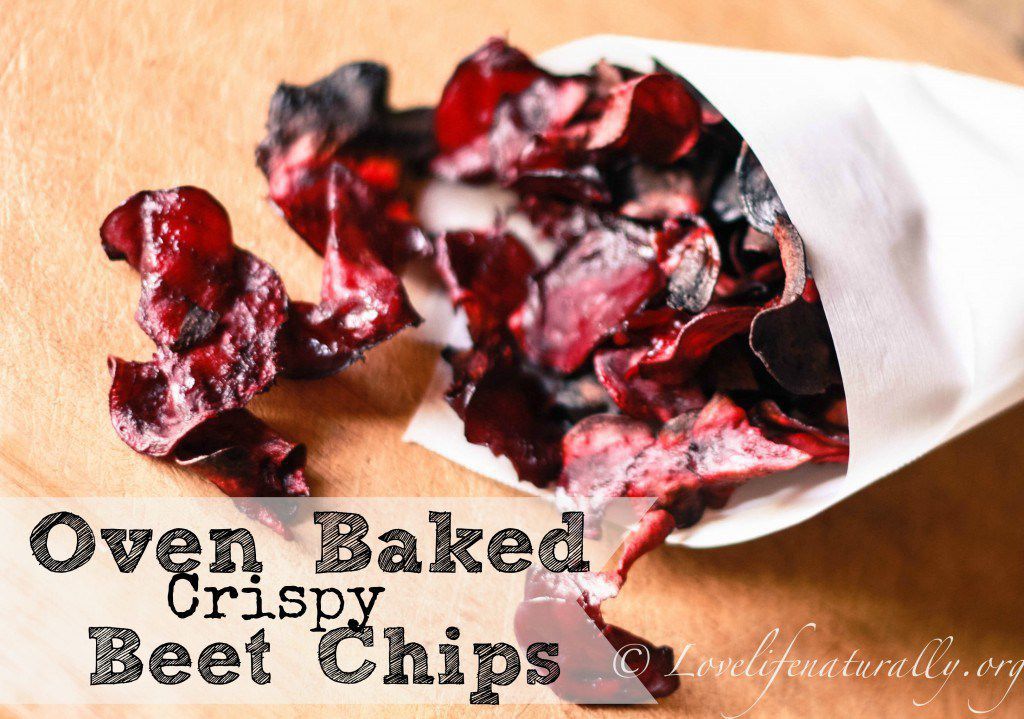 Crunchy… Yes! Delicious… Yes! Easy… Yes! It's a win-win-WIN! Beets have not always been my favorite. As a kid, I remember 'trying' canned beets at Thanksgiving, and from that point on I knew that "I did not like beets." However, now I know, it's all about the preparation, and I'm loving my homemade oven-baked beet chips, and I hope you do too!
Beets are one of the greatest healing foods. I have struggled with severe anemia over that past year (due to some PCOS complications),
and have added beets regularly to my diet and have learned over the last few years to really love them!
They are rich in iron and known for their blood building capabilities.
Not only that, they are packed with essential minerals, phytochemicals (aka cancer fighting!), and have special anti-inflammatory/anti-aging properties.
These include…
Wrinkles Diabetes
Susceptibility to infections Candidiasis
Cancer Osteoporosis
Arthritis Heart disease
Bronchitis High blood pressure
Chronic pain
If you suffer from any of the above or want to prevent, definitely start including beets
and their beautiful greens (add the greens to your green smoothies or juices!) into your diet!
My favorite ways to eat beets are roasted (perfect for yummy salads!), juiced, or baked!
These are definitely a family favorite! Click below for recipe.
-Your Natural Health Momma
HTTPS://NATURALHEALTHMOMMA.COM/2014/06/07/HOMEMADE-OVEN-BAKED-BEET-CHIPS/
Paleo Blueberry Muffins
(makes 12 muffins)
2 cups of organic blueberries (fresh or frozen)
2 1/2 Cups almond meal or blanched almond flour
2 Tbs Coconut flour
4 Pastured Eggs
4 Tbs Coconut oil or ghee (melted)
1/2 tsp Baking soda
1/4 cup Raw honey
1 Tbs Fresh lemon juice
1 tsp Pure Organic Vanilla extract
pinch of Himalayan salt
Directions:
Preheat oven to 350 degrees. Mix dry ingredients in one bowl and wet in another bowl. Add wet ingredients to dry and stir to combine, then gently fold in blueberries. I used frozen blueberries in this batch which will change the batter color slightly.
Evenly add muffin mixture to lined muffin tins.
Bake for 20-25 minutes until tooth pic comes out clean! They should be golden on top!
https://naturalhealthmomma.com/
Grill up a few chicken breasts pull the chicken apart for desired amounts
How to make the tzatziki sauce!
1 cup of Greek yogurt
1 cucumber
Two tables spoon fresh dill (no big dill… hahaha)
Two table spoons lemon juice
Three cloves of garlic
After placing the chicken in the pieces of butter lettuce put a few spoons worth of tzatziki sauce, put diced purple onion and fresh ground pepper.
Oh, and then enjoy
Cheers!
Clients always ask how to make the carbs, protein and veggies in new and interesting ways.
Here is credit to my "At-home" training client, Sara, for this beautiful, simple and macro appropriate recipe.
Ladies: 4oz 96% lean grass-fed beef, 1/4 cup cooked brown rice, 1/2 cup purple cauliflower
Gentlemen: 6oz 96% lean grass-fed beef, 1/2 cup cooked brown rice, 1/2 cup purple cauliflower
CHICKEN INFUSED WITH BASIL
Three chicken breast make an incision down the middle. set to the side.
Cut two celery stocks into small chunks.
Dice a cup of basil
One cup Artichoke hearts
Dice fresh mozzarella into little pieces. You don't need much. This is just to keep all of the pieces together.
1/4 cup of olive oil (prefer basil infused)
Stir all of this together and place inside the incision on the chicken breasts.
Place inside the oven on a cookie sheet at 450 degrees for 20 minutes. If the chicken is still pink in the middle, place for another 10 minutes.
STUFFED PORTOBELLO MUSHROOMS
These are the stuffed portobello mushrooms from your favorite chef Wesley November!
1- large portobello mushroom – (place hot sauce inside the vents.)
In a French skillet or wok pan – pour 1/4 cup of olive oil and let simmer.
Once brought to heat place ground turkey in pan and break apart evenly.
Once there is the juice from the turkey and olive oil at the bottom of pan, place diced vegetables in pan, (you can also add Hanzo Kitchens zombie blood hot sauce while mixing the vegetables too.)
Stir together for 5 to 10 minutes. Once completed place the toppings on top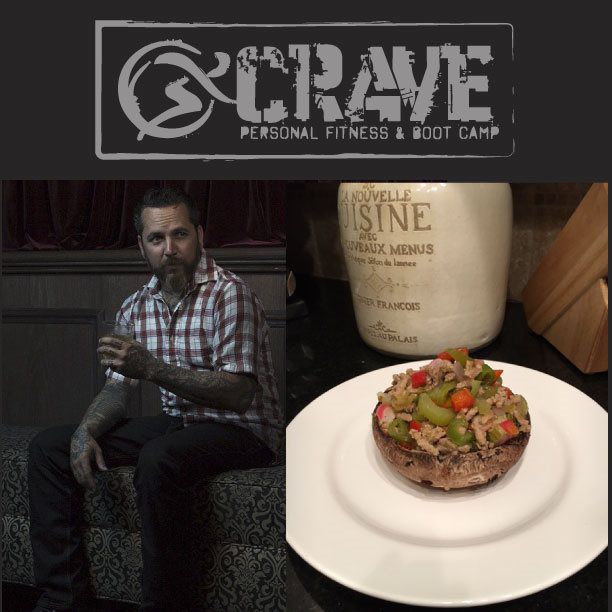 of the mushroom. (You may put a little cheese on top and place in the oven)
Dice up these vegetables.
Purple onion.
Red bell pepper
Radish
Green onion
Yellow tomato
(you can add more if you would like.)
This same recipe goes great inside of Bell peppers.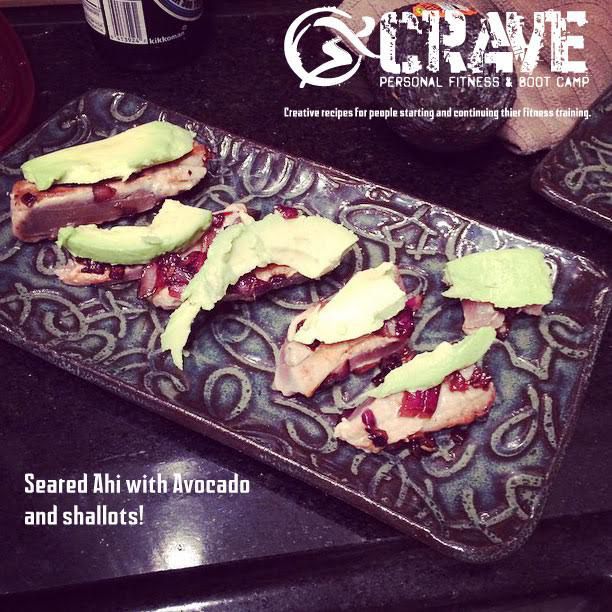 SEARED AHI WITH AVOCADO AND SHALLOTS!
Directions
Dice shallots and place in a frying pan.Pour a 1/2 cup of low sodium soy sauce per shallot or to taste.
Let simmer until shallots are crispy.
Cut ahi into strips according to your serving size. (approx 4-6 oz.)
Place in pan with remaining sauce and shallots. 20 seconds each side max.
Plate ahi from there and add a slice of avo per strip of ahi (3oz.-4oz. avo max.) and then drizzle the shallots and sauce on top
Ingredients:
8 Mushrooms
8oz. Sodium Free, Low Fat Turkey
2oz. Low Fat Provolone Cheese
4 Basil Leaves
1 Roma Tomato
1 Onion Chopped
Directions:
Pre-heat oven to 375 degrees.
Wash and empty mushrooms.
Assemble slider into layers** and bake for 15min.
**Layers (from bottom) are mushroom, turkey with onion mixed in and any other seasonings you like, basil and then roma tomato, provolone cheese.
Tip: Use a small amount of foil to hold sliders upright while baking.
Whole Foods offers a Chipotle Pepper Spread that is low sodium and non-fat you can add!
LEAN BEEF SPINACH MEATBALL
Ingredients
For meatballs:
6 oz lean ground beef
1/2 cup shredded raw spinach
1/4 cup diced red onion
1 tbsp minced garlic
1/2 tbsp cumin
Sea salt and pepper, to taste
For sauce:
1/8 cup marinara (natural and low sodium)
1 1/2 cup raw spinach
5 cherry tomatoes
Directions
Set oven to 405 degrees F.
For added flavor, saute the red onions in a skillet using coconut oil.
Mix together ground beef, chopped raw spinach, red onion, garlic, and spices. Mix thoroughly using your hands until the spinach is completely mixed into the meat.
Form two or three meatballs of roughly the same size using your hands. For accuracy, you can use a food scale to weigh and measure each portion.
Cook the sauce over medium heat and stir in tomatoes chopped & spinach
Mix in cooked meatballs and enjoy!
Nutrition Facts:
Amount per serving
Calories 320
Total Fat 6g
Protein 51g
SPAGHETTI SQUASH + PROTEIN & SAUCE
We are on a challenge that requires us to find natural alternatives for the carb-rich foods we love.
This is one way to cheat, guilt-free.
Spaghetti Squash with ground Turkey and an organic marinara sauce.
I am all about keeping it simple. You can chose to bake your squash but I prefer to microwave for time and texture.
I use 1 half of a squash as my serving size, it makes about 1 cup.
Directions:
Cut spaghetti squash into half long wise. Scoop out the seeds and guts that resemble the inside of a pumpkin.
Lay it face down in a glass pan with 1″ water.
Microwave on high for 12-13 min.
Let sit and cool for 5 min before taking a fork and scraping out the inside. The squash will peel out like noodles.
Stove top cook your 97% lean ground turkey on the stove in its own juices, no oils needed. I like to add Italian spices and herbs. Cook until brown all the way through on medium heat. Serve 3-4 oz. women, 5-6 oz. men with your pasta.
Find a marinara that is 3g of sugar or less, Organic and warm it on the burner. I use about 1/2 cup of sauce.
ENJOY!!!
Nutrition Facts
| | |
| --- | --- |
| Spaghetti squash |     Cholesterol 0 mg |
| Amount Per 1 cup, cubes (101 g) |     Sodium 17 mg |
| Calories 31 |     Potassium 109 mg |
| Total Fat 0.6 g |     Total Carbohydrate 7 g |
| Saturated fat 0.1 g |     Dietary fiber 1.5 g |
| Polyunsaturated fat 0.2 g |     Sugar 2.8 g |
| Monounsaturated fat 0 g |     Protein 0.6 g |
YOGURT STUFFED STRAWBERRIES
Pipe in 1 Tbsp. approx. Non-Fat Greek Yogurt Plain
Top with a pinch of Almond Slivers
I suggest to use Stonyfield Organic Plain Yogurt
0 Fat
0 Chol.
6 Sugar
6 Carbs
15 Protein
20 Calcium
This is better than most Greek's so check the label, if its more than 8 grams sugar and carbs it probably isn't that sweet of a treat but more of a cheat!
Let this Sweet Treat satisfy your late night craving!
SKINNY ITALIAN STUFFED CHICKEN
Ingredients:
4 Boneless chicken breasts
8oz. Fresh mozzarella sliced into 8 slices
12oz. Jar of roasted red peppers
1 Bunch of basil
1 Tbsp. Italian seasoning
Directions:
Heat oven to 375
Butterfly chicken breasts
Stack roasted peppers, basil and 1 slice Mozzarella inside
Then add Italian seasonings
Bake chicken 25-30 min or until no longer pink.
Pull out of oven and place second slice of mozzarella and put on high broil for 3-5 minutes or until cheese is melted.
Enjoy!!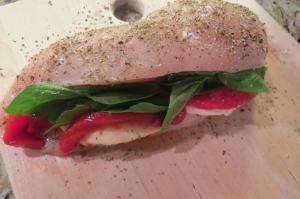 SPICY CHICKEN & STEAK KABOB
Ingredients:
2 chicken breasts
2 steaks (1.5lbs)
3 oz. Orange juice
1.5 oz. Tequila
2 Jalapeños
4 Tsp. Minced garlic
2 limes
Cilantro (optional)
Directions:
Soak your sticks
Cube your meat (2 breasts, 2 steaks)
Servings for 3-4 people.
Put all the cubes into a ziplock bag with 1 oz. orange juice, 1/2 oz. tequila, 2 fresh squeezed limes, 1 finely chopped jalapeño, 3 Tsp minced Garlic.
Marinate for Minimum 40min.
Maximum overnight.
Chop your chosen veggies
I suggest Pineapple & Mushroom for the chicken and Red and Green or yellow bell peppers for the steak.
Stagger meat and veggies on skewers and grill until meat is cooked through.
Sauce:
On stove top boil 1 cup Orange juice, 1 Tsp. minced garlic, 1 finely chopped jalapeño, 1/4 cup tequila, 1 sprig of cilantro. Boil about 10min or until sauce thickens.
Pour over plated skewers.
Enjoy!
SHRIMP AND ASPARAGUS STIR FRY WITH LEMON SAUCE
Ingredients:
Seafood
1 lb Shrimp, large raw
Produce
1 lb Asparagus
1 tsp Garlic
1 tsp Ginger
1 tsp Lemon, zest
Canned Goods
2/3 cup Low-Sodium Chicken stock
Condiments
1/4 cup Lemon juice
1 tbsp Low-Sodium Soy sauce
Oils & Vinegars
4 tbsp Olive oil
Directions:
The shrimp is cooked first, in a frying pan, and then removed from the pan and set aside while the asparagus cooks. Towards the end, a bit of minced garlic is added, as well as some ginger (I used Gourmet Garden Ginger Paste, which makes this meal even easier).
After the sauce is poured into the frying pan and combined with the shrimp and asparagus, it will thicken up and dinner is ready to be served! Would you believe that it will only take you 15 minutes or less to make this fresh and delicious springtime dinner?
Yield: 4 servings, about 1 1/2 cups each
5 cups reduced-sodium chicken broth.
2 tablespoons extra-virgin olive oil
3 medium shallots, thinly sliced
3 cups chopped peeled butternut, hubbard, red kuri or kabocha squash (1/2-inch pieces)
2 cups shiitake mushroom caps, thinly sliced
1/2 teaspoon dried thyme
1/2 teaspoon salt
1/4 teaspoon freshly ground pepper
1/8 teaspoon crumbled saffron threads, (optional)
1 cup arborio rice
1/2 cup dry white wine, or dry vermouth
1/2 cup finely grated Parmigiano-Reggiano cheese
Preparation:
Place broth in a medium saucepan; bring to a simmer over medium-high heat. Reduce the heat so the broth remains steaming, but is not simmering.
Meanwhile, heat oil in a large saucepan over medium heat. Add shallots; cook, stirring, until fragrant, about 1 minute. Stir in squash and mushrooms; cook, stirring often, until the mushrooms give off their liquid, about 5 minutes. Add thyme, salt, pepper and saffron (if using); cook for 30 seconds. Add rice; stir until translucent, about 1 minute. Add wine (or vermouth) and cook, stirring, until almost absorbed by the rice, about 1 minute.
Stir in 1/2 cup of the hot broth; reduce heat to a gentle simmer and cook, stirring constantly, until the liquid has been absorbed. Continue adding the broth 1/2 cup at a time, stirring after each addition until all the liquid has been absorbed, until the rice is tender and creamy, 30 to 40 minutes total. (You may have some broth left.) Remove from the heat and stir in cheese.
HOW TO MAKE YOUR OWN HEALTHY BEEF BOWL!
I know we all love Chipotle and Flame Broiler…
And they are some of the better, fresher choices when it comes to "fast food."
I'd tell my clients to eat that over McDonalds and Chinese food any day, but it doesn't mean it's guiltless.
The dirty truth is the that the sodium levels are through the roof in some cases and portion sizes astronomical in others.
Have you seen the effort it takes to close one of those burritos after they're stuffed with your selection?
Here is a way to make bowls for 2-3 people at a time for price of one person eating out.
Not only will we cut costs, but eliminate all the things you don't need and add in the things you do!
the best part is, it will taste like you're treating yourself…because this time you truly are.
Step 1: Carbs!
Select only one carbohydrate option either black beans or brown rice.
Here is where people go wrong. Buying the fake brown rice or the high sodium black beans.
You can make these at home from scratch yourself and keep the left overs for a brand new meal tomorrow.
Brown rice & black beans cost less than $1 per pound when you buy from a bin and we will only be using 1 cup to make 2-3 servings or like I mentioned earlier make more and save it for later.
Click Here for an easy step by step to making brown rice (We will only use water to cook)
Click Here for an easy step by step to making black beans (We will only use water to cook)
Step 2: The Meat!
When you eat out, here is where it really goes bad. The meats are not the leanest and then you add all the yummy seasonings that will surely cause high blood pressure one day.
3,400 milligrams is the amount of sodium that the average American consumes. 1,500 milligrams or less is the recommended daily allowance of sodium.
So we will buy our beef ground from Trader Joe's. This beef is 96% lean and we will cook it over stove top in it's own juices only added some red chili pepper and Cumin and once almost cooked we will drain excess fat from pan and add a little water to keep it moist. Trust me, this beef is delicious for only $4.99 and serves 3 easily. You can also purchase organic for another buck!
Step 3: Add Veggies.
Now, I love fresh and again believe you can buy fresh cheap and use the left overs tomorrow to create a whole new meal. I often get broccoli at Costco in large qty or Sprouts for a deal and use it the next day in my egg whites for breakfast or raw as a snack. When picking veggies, keep it green and add a pop of color with red, yellow or orange pepper. Try to stay away from sugar veggies, like carrots, which you will often find in To-Go bowls. I estimate you can garnish your bowl with veggies for $1-2. The other option is of course to use frozen and stick with the veggie blends I mentioned.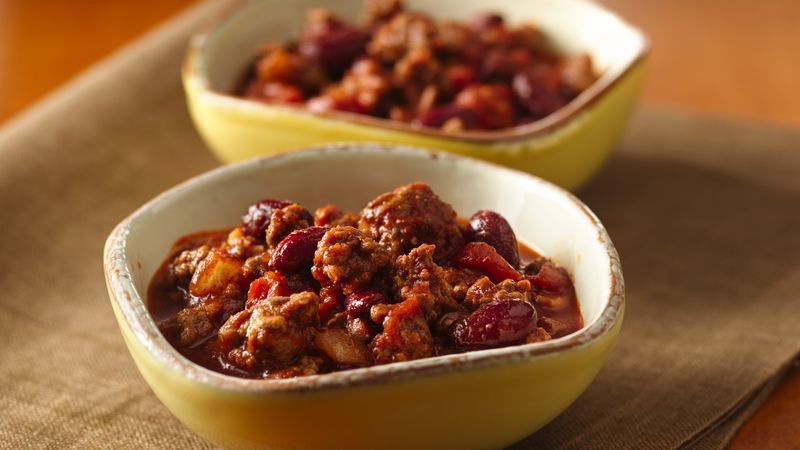 Ingredients
6 large Eggs
1 Avocado
1 Tablespoon Cilantro, chopped (more for garnish)
1 Teaspoon Serrano Peppers, minced
1 Teaspoon Mustard Seeds, finely ground
1 Tablespoon fresh lemon juice
¼ Teaspoon Sea Salt
¼ Teaspoon Olive Oil
Chili Powder, for garnish
Directions
Simply boil eggs, peel & cut into half and scoop out yoke to discard.
Mash up Avocado, cilantro, Serrano peppers, mustard seeds, lemon juice, sea salt and olive oil.
Take this mash and fill halved eggs with a spoon or piping tool.
Garnish with extra cilantro and chili powder and then refrigerate or serve!
GREEN STRAWBERRY SMOOTHIE
A nutrient packed smoothie to help you feel incredible after excessive calorie consumption.
INGREDIENTS
3/4 cup frozen strawberries.
1/2 cup cucumber, peeled and sliced
1/2 large frozen banana, broken into pieces
1 1/2 cup vanilla almond milk (or alternate milk)1 1/2 cups kale, loosely packed, stems removed (you can also use spinach)
Large handful of spinach
INSTRUCTIONS
Add the almond milk to a high-power blender and toss the banana pieces and kale in. Blend on high. Add the strawberries and cucumber. Blend again until smooth. Add in more almond milk and/or ice for desired consistency.
WHY
Almond Milk — Not only is almond milk dairy-free, but it provides excellent source of calcium, vitamin D & E.
Kale — It's actually one of the healthiest vegetables on the planet! Kale provides excellent sources of antioxidant vitamins A, C, and K. Putting it in a smoothie is a great way to a serving or two of veggies in.
Strawberries — This berry packs a vitamin C punch to help keep up your immunity. I love adding it to smoothies for a burst of flavor.
Cucumbers — Cucumbers help re-hydrate the body. They are loaded with vitamin A and K, and also provide a decent amount of potassium. I love how refreshing they taste.
Banana – A great source of potassium, good carbs (only have once in a while, not in excess), and fiber are packed into this delicious fruit that makes smoothies creamy and slightly sweet.
Ingredients: 2 large sweet potatoes, peeled and cubed into 1-inch cubes 6 tablespoons olive oil, divided 1/2 red onion, chopped 1 red bell pepper, chopped 1/4 cup green onions 2 cloves garlic, chopped 2 teaspoons smoked paprika freshly ground black pepper 2 tablespoons chopped fresh parsley
Directions:
Add the potatoes to a large saucepan of salted boiling water and simmer until tender. Drain and dry completely with paper towels.
Meanwhile, heat 2 tablespoons of olive oil in a large skillet over medium-high heat. Add the red onions, bell peppers, green onions, and garlic, and sauté until tender and lightly golden, 5 to 6 minutes. Season with pepper and remove to a bowl.
Add the remaining 4 tablespoons oil to the skillet, and then add the drained and dried sweet potatoes. Cook in a single layer, stirring occasionally, on medium heat until they are tender, about 6 minutes. Increase the heat to high and cook, without stirring, until the potatoes are golden and crisp, about 2 more minutes. Sprinkle with the smoked paprika and gently stir in the onion mixture and parsley.
Serves 4-6
ROSEMARY SHRIMP SKEWERS WITH ARUGULA-WHITE BEAN SALAD
Ingredients
3 tablespoons plus 1 teaspoon extra virgin olive oil
3 tablespoons plus 2 teaspoons fresh lemon juice
3 garlic cloves, smashed
2 teaspoons minced fresh rosemary
1/4 teaspoon plus 1/8 teaspoon black pepper
1 1/2 pounds extra-large shrimp, shelled and cleaned, tails on
Nonstick cooking spray
1 small garlic clove, minced
1 5-ounce package baby arugula
1 15-ounce can cannellini beans, rinsed and drained
1/2 small red onion, thinly sliced
Directions
1. Combine 2 tablespoons of the olive oil, 1 tablespoon of the lemon juice, the smashed garlic cloves, the rosemary, and 1/4 teaspoon of the black pepper in a medium bowl. Add the shrimp; toss well. Cover and refrigerate 15 minutes.
2. Heat a grill to medium-high. Thread shrimp on skewers (if they're wooden, soak in water 30 minutes prior to grilling) and discard marinade. Lightly mist grill with cooking spray. Grill shrimp until just cooked through, about 2 minutes per side.
3. Combine the minced garlic, sugar, and remaining olive oil, lemon juice, salt, and black pepper in a large bowl. Add the arugula, beans, and onion; toss to combine.
4. Mound the salad on one side of a large platter and arrange the shrimp skewers alongside.
Nutrition facts per serving: 315 calories, 35g protein, 21g carbohydrate, 13g fat (1.9g saturated), 6g fiber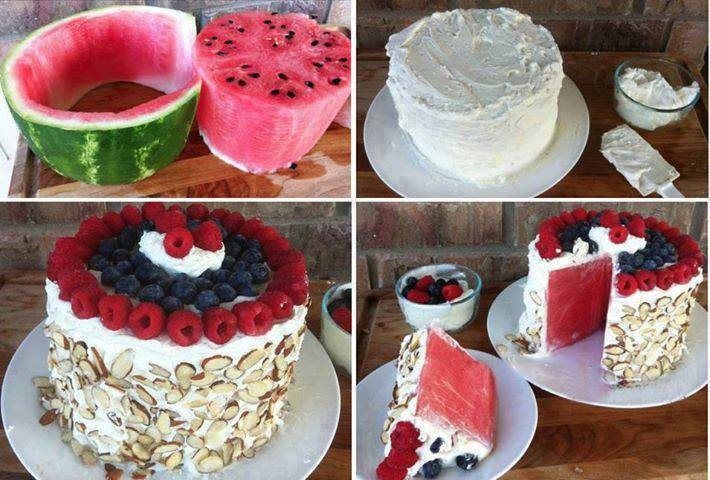 If you are looking to cut a few calories on cake, you have try this "Paleo friendly" No Bake Watermelon Cake recipe.
Ingredients for coconut whip
1 can Coconut Milk
¼ teaspoon of Vanilla extract or a vanilla bean
Sweetener (Cane sugar or Pure Maple Syrup)
1 Chilled bowl for mixing all the ingredients together
Instructions
Chill the can of Coconut Milk overnight to separate the Coconut fat from the milk. (Don't skip this part or else it won't work)
Open the chilled can of Coconut Milk and pour out the watery Coconut Milk to use for something else.
Use the remaining thick Coconut Fat to make your whipping cream by adding it to the chilled bowl.
Whip the Coconut cream until it is nice and fluffy.
Add the vanilla and sweetener and finish whipping the cream until it reaches a stiff peak as seen in my photo below.
If you need it to be firmer put it back in the fridge until you are ready to use it. It may require a bit more mixing too.
If you like tuna, try this! It's the perfect recipe to impress your taste buds without hitting your local sushi bar!
INGREDIENTS
1 teaspoon macadamia nut oil
4 pieces (4 ounces each) yellow fin or albacore; about 1 inch thick
3 tablespoons fresh lemon juice (from 1 1/2 lemons)
3 tablespoons reduced-sodium soy sauce
1 1/2 teaspoons Sriracha (Asian chili sauce)
1 avocado
2 2/3 cups warm cooked short-grain brown rice (from about 1 1/4 cups uncooked)
6 ounces cucumber, halved and thinly sliced on the bias into half-moons (2 cups)
1/4 cup cilantro
DIRECTIONS
Heat oil in a nonstick pan over high heat. Cook fish until golden brown on outside but still quite rare in center, 1 1/2 to 2 minutes per side. Remove from pan; let cool slightly.
Mix together lemon juice, soy sauce, and Sriracha. Slice avocado. Divide rice among 4 plates, and drizzle with half the sauce. Arrange avocado and cucumber on top of rice. Break tuna into chunks, and divide among plates. Drizzle with remaining sauce, and top with cilantro.
Here's a creative recipe that is sure to help beat the heat this summer!
Ingredients
12 tablets Hica-Max (red color)
1.5 scoop Protein Powder
1.5 cup blueberries or blackberries (or mixture of two)
1 cup chopped strawberries
1/3 cup raspberries
1/2 cup Greek yogurt
1 medium banana
6 three-ounce Dixie cups
6 popsicle sticks
Directions
Add red Hica-Max candies to a blender and grind into a powder. Then, add strawberries and raspberries to the powdered candies and blend until smooth. Pour contents into a cup or bowl and set aside.
Add blueberries (or blackberries) to the blender and blend until smooth. Pour contents into a cup or bowl and set in the refrigerator.
Add banana, Greek yogurt, and Protein to the blender and blend until smooth. Pour the contents into a cup or bowl and set aside in the refrigerator.
Pour the Hica-Max and strawberry mixture evenly into the six Dixie cups. Place cups in the freezer for about one hour.
Remove the Dixie cups from the freezer and place popsicle sticks vertically into the cups. Add the banana protein mixture evenly between the cups and then top with blueberry mixture. Each cup should have three layers.
Place in the freezer for at least four hours.
Enjoy these after a nice workout! especially in the heat!!!
My family loves meatloaf, especially this healthy version. This recipe only contains 214 calories and 2 grams of fat per serving. Traditional recipes contain 3 times the calories and over 5 times the fat!
Ingredients for Meatloaf:
1 pound (96%) extra lean ground beef, see shopping tip below.
1½ slices whole wheat bread, remove crusts (I use Multigrain bread.)
1 cup onions, chopped
2 egg whites
3 tablespoons ketchup
1 tablespoon spicy brown or yellow mustard
1 tablespoon Worcestershire sauce
Fresh ground pepper, to taste
Ingredients for Topping:
¼ cup ketchup
1 tablespoon spicy mustard or yellow mustard
2 teaspoon brown sugar, packed
Instructions
Preheat oven to 350 degrees. Line a baking sheet with foil and set aside.
In a large bowl, add the ground beef.
To make bread crumbs: remove crust, break up bread and add to a blender or food processor. Process until the bread turns into crumbs.
To the beef, add the bread crumbs, onions, egg whites, ketchup, mustard, Worcestershire sauce, and pepper, to taste. Using your hands, mix together all the ingredients.
Place the meat mixture on the baking sheet and free form a loaf by hand. It should be about 12"x4."
In a small bowl, mix together the topping ingredients. Spread all over the top of the meatloaf.
Bake for 55 minutes. Remove from oven and let rest for at least 10 minutes before slicing.
Makes 10 slices (2 slices for each serving)
Shopping Tip
Most supermarkets sell lean ground beef. I used the 96% lean ground beef from Trader Joe's.
Grab Cauliflower, Coconut Milk, and minced garlic for my cauliflower mash, a guilt free side dish. CLICK HERE for the recipe!
For a one-two punch of omega-3s in your breakfast, try baking eggs in an avocado. Beyond the heart-healthy fatty acids and high protein count, this low-sugar and fiber-filled breakfast will kick off your day on a healthy high note.
Ingredients
2 ripe avocados
4 fresh eggs
1/8 teaspoon pepper
1 tablespoon chopped chives
Directions
Preheat the oven to 425 degrees.
Slice the avocados in half, and take out the pit. Scoop out about two tablespoons of flesh from the center of the avocado, just enough so the egg will fit snugly in the center.
Place the avocados in a small baking dish. Do your best to make sure they fit tightly.
Crack an egg into each avocado half. Try your best to crack the yolk in first, then let the egg whites spill in to fill up the rest of the shell.
Place in the oven and bake for 15 to 20 minutes. Cooking time will depend on the size of your eggs and avocados. Just make sure the egg whites have enough time to set.
Remove from oven, then season with pepper, chives, and garnish of your choice. Enjoy!
FLANK STEAK WITH CILANTRO-ALMOND PESTO
Try this delicious grill masterpiece that is easy to make and easy to enjoy!flank-steak-ck-614032-l
Ingredients;
3/4 cup fresh cilantro
2 tablespoons slivered almonds, toasted
1 tablespoon chopped seeded jalapeno pepper
1/8 teaspoon black pepper
1 garlic clove, chopped
3 tablespoons plain fat-free yogurt
1 1/2 teaspoons fresh lime juice
Cilantro sprigs (optional)
Preparation
Prepare grill.
Combine cilantro, almonds, jalapeno pepper, black pepper and garlic clove in a blender; process until finely chopped (about 15 seconds). Add yogurt and juice; process until smooth.
Grill steak 6 minutes on each side or how you prefer your preparation (medium rare to well done.)
Cut steak diagonally across grain into thin slices. Serve steak with pesto. Garnish with cilantro sprigs, if desired.
Let's face it, we all love nachos. Unfortunately they don't fall in to the category of "healthy" or "approved" meals.
Well, you're in luck. This recipe is Nacho regular Nachos… sorry, had to do it. 
Ingredients:
1-2 large sweet potatoes
Dash Himalayan sea salt
2 chicken breasts
1 tsp extra-virgin olive oil
1/4 tsp chili powder
1/4 tsp cayenne pepper
1/4 tsp garlic powder
1/4 tsp onion powder
Optional Toppings:
1 jalapeño, diced
3 tbsp scallions, diced
guacamole
salsa
Preparation of Nacho Chips:
Preheat oven to 375 and line baking sheet with foil.
Slice sweet potatoes thin using a mandolin.
Spray baking sheet and lay sweet potatoes down. Bake until crispy.
Remove, let cool, and place on plate.
Preparation of Chicken:
Cut chicken into bite size pieces.
Combine spices and coat chicken with the spice mix.
In a skillet, heat oil and add chicken. Saute until fully cooked.
Place sweet potato chips on a plate and top with chicken and any of the optional toppings.
Serve immediately and enjoy!
St. Patrick's Day is right around the corner! What's more Irish than a traditional recipe for corned beef and cabbage?
Ingredients:
1 (4-pound) cured corned beef brisket, trimmed
16 cups water
2 cups chopped onion
1 cup chopped celery
1 cup chopped carrot
1 1/2 teaspoons pickling spice
3 garlic cloves, peeled
Olive oil Cooking spray
1 tablespoon caraway seeds
1 (2 1/2-pound) head green cabbage, cored and cut into 1-inch strips
4 pounds small red potatoes, quartered
2 tablespoons chopped fresh parsley
2 teaspoons olive oil
2 teaspoons grated lemon rind
2 teaspoons fresh lemon juice
1/8 teaspoon black pepper
1/2 cup dry breadcrumbs
1 (5-ounce) jar prepared horseradish, drained and squeezed dry
3 tablespoons Dijon mustard
Place brisket in a large stockpot; add water and next 5 ingredients (water through garlic). Bring to a boil. Cover, reduce heat, and simmer 3 hours. Remove brisket from pot.
Place brisket on the rack of a broiler pan or roasting pan coated with cooking spray; place rack in pan. Strain cooking liquid through a colander into 2 large bowls; discard solids. Return liquid to pot. Add caraway seeds and cabbage; bring to a boil. Reduce heat; simmer 20 minutes. Drain.
While cabbage is cooking, place potatoes in a large Dutch oven. Cover with water. Bring to a boil; cook 20 minutes or until tender. Drain. Return potatoes to pan. Stir in parsley, butter, rind, juice, and pepper; toss to coat.
Preheat broiler.
Combine breadcrumbs and horseradish. Spread mustard over one side of brisket. Press breadcrumb mixture onto mustard. Broil 3 minutes or until lightly browned. Serve brisket with cabbage and potatoes.
Fat: 14.5g
Protein: 22.8g
Carbohydrate: 27.6g
Fiber: 10g
There is a good reason why Popeye got his super powers from spinach. It is high in a variety of vitamins including vitamin C, B2, A and K. Spinach might not be on your top-ten list of favorite foods, but with a little creativity you can easily get this powerful veggie into your daily diet!
Ingredients
1 tablespoon vegetable oil
1 onion, chopped
1 (10 ounce) package frozen chopped spinach, thawed and drained
5 eggs, beaten
1/8 teaspoon ground black pepper
Directions
Preheat oven to 350 degrees F (175 degrees C). Lightly grease a 9 inch pie pan.
Heat oil in a large skillet over medium-high heat. Add onions and cook, stirring occasionally, until onions are soft. Stir in spinach and continue cooking until excess moisture has evaporated.
In a large bowl, combine eggs, cheese, salt and pepper. Add spinach mixture and stir to blend. Scoop into prepared pie pan.
Bake in preheated oven until eggs have set, about 30 minutes. Let cool for 10 minutes before serving.
CHOCOLATE FROSTING SHOTS (NON-DAIRY CHOCOLATE MOUSSE)
Don't be afraid, it's healthy! Are you the type of person who would rather eat the frosting off of a cupcake or piece of cake? As tasty as that frosting is, it is not the most healthiest for you. We've found a recipe with all natural, healthy ingredients and packs a big sweet tooth fix!
Ingredients:
Chocolate Frosting Shots
1 Can full-fat coconut milk
1/4 Cup plus 1 tbsp. cacao powder
1/2 Tsp. pure vanilla extract
Stevia to taste for thicker result
Directions:
1) Open your coconut milk, and if it's not already super-thick, leave the can (or transfer to a bowl) uncovered in the fridge overnight.
Try not to shake the can too much before opening. It should get very, very thick.
2) Once thick, transfer only the creamy part to a bowl, leaving the watery part out. Whip in your cocoa, vanilla, and sweetener with a fork, or even beaters if you want to be fancy.
3) Store uncovered in the fridge, the mixture gets even thicker. For the photos I did pipe the chocolate frosting shots out using an icing tip.
Ingredients:(Serves about 3)
1 head of cauliflower (if it is very small you may need 1 1/2 to 2 heads)
1/2 cup coconut milk or to texture preferred.
Coarse Sea Salt and pepper to taste (a must for great flavor)
Optional: dried herbs like chives, marjoram or Italian seasoning, even crumbled bacon.
Toppings: The options are endless, but I like to use these: fresh crispy bacon crumbles, fresh chives or green onions, shrimp, asparagus.
Directions:
Fill a medium sized pot about 1/4-1/3 full of water. Do not pre-boil the water! Just leave it there till ready to use.
Cut the cauliflower into small evenly sized florets, trimming off the thick ends. You will have a fluffier mash if you cut them all the way off.
Turn your burner on medium high to high. Steam the cauliflower for about 12 minutes with the lid on. While the cauliflower is steaming prepare your toppings.
Important: DO NOT OVER COOK! It may seem like the cauliflower isn't cooked through enough, but it most likely is. The cauliflower should be soft enough to break up if pressed with a wooden spoon, but it should not be mushy at all. If you let the cauliflower get too soft it will just end up as a runny mess instead of a fluffy mash once pureed. If it is under-cooked it will be grainy. Twelve minutes works every time for me. However, times could very ever so slightly from stove to stove or steamer to steamer.
Remove from heat and immediately transfer the cauliflower to a food processor. Then add toppings and serve in a martini glass to dazzle guests!
I'm not sure there's anything more special and delicious during the holidays (or any other time) than a beautiful, perfectly cooked piece of roast beef. This is our version of prime rib, which is as good the next day, sliced cold right out of the fridge, as it is served warm on a plate with your favorite side dishes. Enjoy!
Ingredients
– 1 (8 pound) Prime Rib
– 8 Fresh Garlic Cloves
– 1/4 Cayenne Pepper to taste
– 2 Tablespoons Black Pepper to taste
– 2 Tablespoons Sea Salt to taste
– 3 Teaspoons Grated Fresh Ginger
– 1 Tablespoon Dried Mustard Powder
Preparation
– Rinse and pat dry prime roast
– Insert garlic cloves throughout ribs interior
– Combine all spices and herbs (mix well)
– Rub prime rib with spices and herbs (cover rub rib equally)
– Put rubbed prime rib in glassed covered baking dish.
– Refrigerate overnight.
– Preheat over 325 degree F
– Place marinated prime rib on meat rack and cook for approximately 2.5 to 3 hours.
– Thermometer reading should be 140 degrees F (medium rare) and 170 degrees F (76 degrees C) for well done.
– Remove roast from oven and let rest for approximately 30 minutes before serving.
It's no surprise that sweet potatoes are at the top of nearly everyone's healthiest foods list. One baked, medium-sized sweet potato contains 438% of your daily value of vitamin A (a white potato contains 1%), 37% of your vitamin C, and some calcium, potassium, and iron too. All this at just 105 calories! What's more, they also deliver 4 grams of dietary fiber—16% of the daily value—and absolutely zip in terms of fat.
Prep Time: 5sweetpotatoes
Cook Time: 12
Total Time: 32
Yield: Serves 4
Ingredients
2 medium sweet potatoes (1 3/4 pound), scrubbed and dried
2 teaspoon olive oil
1/2 teaspoon paprika
1/4 teaspoon freshly ground black pepper
Preparation
1. Preheat grill to medium-high. Meanwhile, cook sweet potatoes in a microwave on HIGH heat until crisp-tender when pierced with a knife, 6 to 7 minutes.
2. Cut potatoes lengthwise into 8 wedges. Transfer potatoes to a sheet pan; drizzle with olive oil; sprinkle with paprika and pepper and toss to coat. Grill 3 minutes per side or until potatoes are charred and fully cooked.
The Salt Water Cleanse is a gentle method to flush out your entire digestive tract. Actually, it is often called the salt water flush because it flushes right through you.
I like it because if I do it properly, I am complete with the flush in 1 to 1-1/2 hours and then I don't have to be by the bathroom the rest of the day.
The one I do, does contain salt, Celtic Sea Salt , not iodized salt. Iodized salt can be harmful to you, some even say toxic.
The weight of the salt in the distilled water is the same as the weight of the sodium in your blood so the kidneys do not recognize it. This allows the salt and water solution to pass through the colon, similar to an internal enema.
Benefits:
Cleaning digestive tract.
Flatten tummy.
Help cure digestive difficulties.
No starvation, liquid diets.
Salt Water Cleanse Recipe
1 quart (1 Liter) Water – boil and let cool to tea drinking temperature
2 teaspoons Celtic Sea Salt or some other natural salt that is not iodized and contains no additives.
Optional: Juice from a Lime or Lemon – to offset the taste
Must chug at once, all within 20min on an empty stomach.
LEMONY FUSILLI WITH CHICKEN, ZUCCHINI, AND PINE NUTS
Prep time: 5 minutes
Cook time: 15 minutes
Makes: 4 servings
Ingredients
3 teaspoons salt
8 ounces whole wheat fusilli
2 tablespoons olive oil
2 slender zucchini, halved lengthwise, sliced into 1/4-inch thick pieces
5 scallions, chopped
1/4 cup pine nuts
1 lemon, rind peeled in strips
Small pinch red pepper flakes
12 ounces boneless, skinless chicken breasts, cut into bite-size pieces
5 large basil leaves, sliced
1/4 cup grated Parmesan (optional)
Directions
1. Bring a large pot of water with 2 teaspoons of the salt to a boil; add the fusilli. Cook until al dente.
2. Warm 1 tablespoon of the olive oil in a large skillet over high heat. Add the zucchini, scallions, pine nuts, lemon peel, red pepper flakes, and 1/2 teaspoon of the salt; cook, tossing frequently, until zucchini is well browned and tender, about 5 minutes.
3. Use a slotted spoon to transfer zucchini to a serving bowl. Remove lemon peel from pan. Mince 1/2 teaspoon of the peel and discard the rest. Squeeze half the lemon over the zucchini.
4. Turn heat to medium-high and swirl in remaining olive oil. Add the chicken, minced lemon peel, and remaining salt; cook, stirring, until golden, about 7 minutes.
5. Drain fusilli, reserving 1/4 cup of the cooking water. Add fusilli, zucchini, and reserved cooking water to skillet. Cook 1 to 2 minutes. Transfer to a bowl and top with the basil and, if using, Parmesan.
Nutrition facts per serving: 426 calories, 32g protein, 49g carbohydrate, 14g fat (2.2g saturated), 6g fiber
SUMMER TIME SHRIMP CEVICHE
If you're looking for a great refreshing summer time meal, try this fantastic Summer Time Shrimp Ceviche. Don't be afraid to get creative. Add diced cucumber, mango or extra jalapeno. Simply delicious!!shrimp-ceviche-2
1 pound peeled and deveined medium shrimp
1 cup fresh lime juice
10 plum tomatoes, diced
1 large yellow onion, diced
1 jalapeno pepper, seeded and minced, or to taste
2 avocados, diced (optional)
2 ribs celery, diced (optional)
chopped fresh cilantro to taste
salt and pepper to taste
Directions
Place shrimp in a glass bowl and cover with lime juice to marinate (or 'cook') for about 10 minutes, or until they turn pink and opaque. Meanwhile, place the plum tomatoes, onion and jalapeno (and avocados and celery, if using) in a large, non-reactive (stainless steel, glass or plastic) bowl.
Remove shrimp from lime juice, reserving juice. Dice shrimp and add to the bowl of vegetables. Pour in the remaining lime juice marinade. Add cilantro and salt and pepper to taste. Toss gently to mix.
This tantalizing appetizer mingles fresh ahi, avocado, cucumbers and spice and will impress the most knowledgeable food critic.ahi recipe
◦1/2 cup diced cucumber
◦1 tablespoon toasted sesame seeds
◦1 1/2 teaspoons lemon juice
◦1 avocados – peeled, pitted and diced
◦3/4 pound sashimi grade tuna steak, diced
◦2 teaspoons sesame oil
◦1/4 cup chopped green onion
◦1/2 cup soy sauce
◦1 1/2 teaspoons red pepper flakes
Instructions
1. In a medium bowl, combine the tuna, cucumber, avocado, green onion, red pepper flakes and sesame seeds.
2. Pour in the lemon juice, sesame oil and soy sauce, and stir carefully to blend so as not to mash the avocado.
3. Place this bowl into a larger bowl that has been filled with ice.
4. Chill in the refrigerator for 15 minutes, but no longer – the terrific freshness of the fish will be lost.
5. Once chilled, remove the bowl from the ice, and invert onto a serving plate.
6. Serve with toasted bread or your favorite crackers.
Nutrition Facts
Servings: 6, Calories: 155, Fat: 8.2g, Cholesterol: 26mg, Sodium: 1245mg, Carbohydrate: 5.8g, Protein: 15.6g
NO-FLOUR BLACK BEAN BROWNIES (GLUTEN FREE)
Alright… for all of you with a craving for sweets, and by that we mean EVERYONE, here is a great recipe for some gluten free "No-Flour Black Bean Brownies!"
Here's what you'll need:
•1 1/2 cups black beans (1 15-oz can, drained and rinsed very well) (250g after draining)black-bean-brownies
•2 tbsp cocoa powder- Dutch or regular (10g) (add a little extra if desired)
•1/2 cup quick oats (40g) (See nutrition facts link below for all substitution notes.)
•1/4 tsp salt
•1/3 cup pure maple syrup or agave (Honey will work, but not for strict vegans.) (75g)
•2 nunaturals stevia packs or 2 tbsp sugar (or omit and increase maple syrup to 1/2 cup)
•1/4 cup coconut or vegetable oil (40g) (See "nutrition facts" link for all substitution notes.)
•2 tsp pure vanilla extract
•1/2 tsp baking powder
•1/2 cup to 2/3 cup chocolate chips (115-140g) (Not optional. Omit at your own risk.)
•optional: more chips, for presentation
Preheat oven to 350 F.
Combine all ingredients except chips in a good food processor, and blend until completely smooth. Really blend well. (A blender can work if you absolutely must, but the texture—and even the taste—will be much better in a food processor.)
Stir in the chips, then pour into a greased 8×8 pan.
Optional: sprinkle extra chocolate chips over the top.
Cook 15-18 minutes, then let cool at least 10 minutes before trying to cut.
Makes 9-12 brownies.
Per Brownie:
•Calories: 115
•Fat: 5.5g
•Carbs: 15g
•Fiber: 3g
•Protein: 2.5g
•WW Points (new system): 3 points
This recipe is very flavorful and is filled with wholesome nutrients, vitamins and fiber. Unlike most teriyaki recipes, this doesn't contain sugar, yet it maintains a sweet undertone. Serve on a bed of baby arugula and quinoa. Servings: 4
Here's what you need:
1 can naturally sweetened, zero calorie lemon lime soda (Zevia brand)
1/2 cup soy sauce
3/4 cup brown rice vinegar
1 medium yellow onion – half minced and half thinly sliced
4 cloves garlic, smashed
1 Tablespoon fresh ginger, grated
1 Tablespoon coconut crystals (or 1 teaspoon agave nectar or 1 packet Stevia)
2 pounds boneless, skinless chicken thighs
2 teaspoons coconut oil
1 bunch asparagus, trimmed and cut into 1 inch segments
2 Tablespoons chopped cilantro
optional *baby arugula and cooked quinoa
Combine the soda, soy sauce, vinegar, minced onion, garlic, ginger and coconut crystals in a bowl. Add the chicken and turn to coat. Place in refrigerator overnight.
Remove chicken from marinade and pat dry. Reserve 1 cup of marinade.
Heat one teaspoon of coconut oil in a large skillet. Add the chicken and heat on medium high, turning once, for 8-10 minutes, until browned and cooked through. Transfer to a plate.
Wipe out the skillet. Heat remaining 1 teaspoon of coconut oil. Add the sliced onion and asparagus. Cook for 5 minutes, until browned.
Add the reserved marinade and boil until slightly reduced. Add the cilantro.
Serve over a bed of baby arugula and cooked quinoa.
Nutritional Analysis: One serving equals: 289 calories, 13g fat, 963mg sodium, 4.8g carbohydrate, 3g fiber, and 29g protein
PROSCIUTTO AND MELON SKEWERS
This is a great snack or appetizer to enjoy this holiday season. It's especially important this time of year to stick with food that is made with real, wholesome ingredients. Servings: 12
Here's what you need…
8 fresh mint leaves, minced
dash of salt and pepper
2 teaspoons lime juice
1 teaspoon agave nectar
24 cantaloupe balls
24 red grapes
12 slices prosciutto
In a medium bowl combine the minced mint, salt and pepper, lime juice and agave nectar.
Add the melon balls and toss to coat. Place in the fridge for 15 minutes.
Fold each slice of prosciutto twice, so that the width gets smaller. Push the prosciutto onto a skewer, add a melon ball and a grape, then fold the prosciutto over and repeat with another melon and another grape. Repeat with the remaining ingredients.
Nutritional Analysis: One serving equals: 42 calories, 2g fat, 152mg sodium, 3g carbohydrate, 0g fiber, and 3g protein
TURKEY, MINT AND SPINACH SALAD
Fresh orange juice, mint, apple and grapes make this turkey salad something special. This recipe is perfect to use leftover roasted turkey from your holiday meal, or even leftover chicken. Be sure to use organic ingredients to get the most flavor and nutrients. Servings: 4
Here's what you need:
2 cups shredded roasted turkey
1 organic apple, chopped
2 organic celery stalks, chopped
1/4 cup fresh mint leaves, finely chopped
1 cup organic, red grapes, halved
4 cups baby spinach
Dressing
1/4 cup olive oil
1/4 cup fresh squeezed orange juice
1 Tablespoon orange zest
Stevia to taste
1 Tablespoon Dijon mustard
dash of salt and pepper
In a small bowl whisk the olive oil, orange juice, orange zest, stevia, Dijon, salt and pepper.
In a medium bowl combine the turkey, apple, celery, mint and grapes. Toss with the dressing.
Prepare each plate with a pile of spinach. Top with the turkey salad mixture.
Nutritional Analysis: One serving equals: 289 calories, 15g fat, 795mg sodium, 13g carbohydrate, 2g fiber, and 25g protein
Ingredients
3 1/2 cups water
1/4 teaspoon salt, optional
2 cups old-fashioned oats
1/2 cup raisins
1/2 cup walnuts, coarsely chopped, optional
1/4 teaspoon vanilla extract
Pinch nutmeg
2 tablespoons dark brown sugar, plus more, to taste
1 cup lowfat milk, divided
1/8 teaspoon ground cinnamon
Directions
In a medium saucepan, bring the water and salt to a boil. Stir in the oats and raisins, reduce the heat to low and simmer, stirring occasionally, uncovered, for 5 minutes.
In the meantime, place nuts, if using, in a dry skillet over a medium-high flame, and toast, stirring frequently, until golden and fragrant, about 5 minutes. Set aside.
When the oats are cooked remove pan from the flame and stir in the vanilla and nutmeg. Swirl in the brown sugar and place the oatmeal in serving bowls. Pour 1/4 cup of milk on top of each bowl, and top with toasted nuts and a sprinkle of cinnamon.
Note: For a quicker version using quick cooking or plain instant oatmeal: Cook the oatmeal according to the directions on the package. Stir raisins, brown sugar, and nutmeg into the cooked oatmeal. Top with milk, nuts (toasted or un-toasted) and cinnamon